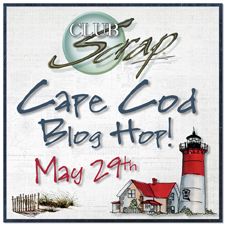 Welcome to my post for the Club Scrap Cape Cod Blog Hop!
As soon as I saw the Club Scrap May Cape Cod Collection I thought of my vacation to Okracoke Island, NC. Lately I have been inspired by Laura Denison's albums at Following the Paper Trail and this her Memories on File Album, pattern here, scaled down by 75% to a 6 ½ x 9 ½ size. All the tabs and mini folders included in the Cape Cod Collection are perfectly suited to this interactive album.

Unless otherwise noted all materials are from the Club Scrap Cape Cod Collection.
Front Cover

The cover frame was made with layers of chipboard, so I could get a three dimensional look.

The background is a picture of a beautiful sunset over Okracoke from the web, that I printed on a paper and vellum, layered with chipboard between them.

The Cape Cod dune grass and fence stamp was embossed with Club Scrap Holiday WOW verdigris embossing power on kraft paper. The lighthouse was from a cut out, mounted on chipboard.

On top of that the frame was added for a total of four layers.
Cover Detail View
Each set of three pages is made from a trimmed down file folder and three envelopes (red and silver). The full album includes six of these three page sets. I alternated between navy blue and black file folders, as can be seen from the spine view.
For each page I added Distress Paint Picket Fence for an antiqued white edge that dries quickly.

I used file folder scraps and additional grey, black, and red card stock for the page details.

I finished the edges with EK success round binding edge or Fiskers postage edge punches.
Back Cover and Spine
Inside Cover and First Page - Closed
Center of a Page Set with Three Envelope Pockets
Back of First Page Set and Front of Second Page Set 
I have only finished the inside cover and first page of the first three page set.

The detailed views below shows it

with all the pockets and flaps that it just seems to go on forever.

It was so much fun to fill!

I'll post more as I get it completed.
Inside Cover and First Page with Some Tabs Open
Inside Cover and First Page with Flaps and Tabs Open

Thank you for joining in the Blog Hop and for reading my post.

Here is a link to your next stop with Janet at Dishing with Janet.

Also, here is a link back to the start at Club Scrap Creates.