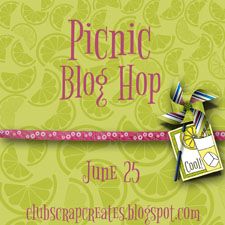 I'll admit it when I first saw the
Picnic collection
, as beautiful as it is, I wondered what I could do for the blog hop. I don't want to seem like a Goth girl, but all the pink, bright colors, and the crisp retro images, are just not "me". So I trusted and remembered this is Club Scrap. So I knew the collection pieces would all work together and my job was to stretch my style. As a result I had a lot of fun with the kit and decided that it was "some what me" after all.
The collection made me think of 50's dresses and pastel clothes at picnics. So my first resource was the Club Scrap Blog. So I took the
Dungarees Origami dress shirts
and turned them into retro picnic shirts. I used text weight paper to make Gelli Plate prints for the origami. The first ones used distress ink and then with fluid acrylics with of course CS stencils.
Then I looked up
Origami Dress
for something retro for the ladies. I had fun adding embellishments and even making a little girls dress as a variation.
Then I used the Picnic digital kit to make plaid for the wardrobe because what is a retro picnic without pastel plaid clothing.
Thank you for reading my post,
Happy Creating,
Debby H