Welcome to the Club Scrap Trees Collection Blog Hop!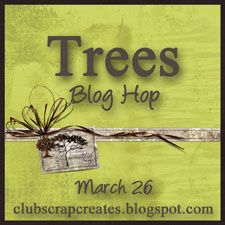 To return to the start of the hop here.
This is the 7

th

week of the Club Scrap Assembly Line Boot Camp (ALBC) and I have found my card making stride with over 100 cards created. For more information on ALBC on the page above.

I admit it, I have gone a bit crazy with the card making formulas, so it is fitting that I would come up with a formula for the Trees Blog Hop that makes these ten cards.
I love the beautiful heavy weight Club Scrap paper and the talented folks at Club Scrap have many card making formulas to efficiently use your paper.

The blog has many card making formulas and most are based on 8 ½ by 11 inch paper.

I tend to end up with many 12x12 inch papers and the talented Julie came up with a formula for me as shown at Club Scrap Creates.

Here is a post with my cards using the Trees Kit.
I wanted to make more the wonderful Club card formulas and use up even more of my 12x12 inch paper.

So I came up with a formula to use the extra parts left over after cutting an 8 ½ x 11 inch paper out of a 12x12 inch sheet.

The details of the card formula is shown at the end of this post.

I selected two card sketches from Retro Sketches.

What I like about their sketches are all the various options given by the by the design team and participants.

I selected Retro Sketch #97 and Retro Sketch #50 because I really liked the way these particular sketches made use of negative space.

When making cards I cut the paper then sort them into piles for each card. All the scraps go to the side of my work space for accents. Then I make up each one at a time trying making them unique using scraps.
Retro Sketch #97
Retro Sketch #50
I
also selected a Club Scrap formula for OWH sketch #171 for four sheets of 8 ½ x 11 inch papers. I added one 8 ½ x 11 inch paper to the three 8 ½ x 11 inch papers from my formula to make four more cards. I cut out both formulas so I could pick from the scraps while assembling each card.
OWH sketch #171
I love the CS Trees Collection imagery, so I worked out a way to keep the tree trunk in the sampled images.

I place the three smallest panels on the card base with a temporary adhesive.

Then I stamped them all with a combination of Club Scrap Hybrid ink in Earth, Moss, and Leaf.

I removed the small panels and finished the cards with Trees stamps, Trees fibers, Greetings, and a bit of bling.
Your next stop is with the talented Janet from Dishing with Janet and the beginning of the hop is at Club Scrap Creates here.
Thank you for reading my post,
Debby H
Card Formula for Scraps from cutting a 12 x 12 inch paper into a 8 ½ x 11 inch paper
To use this formula you will need three 12 x 12 inch papers and three 8 ½ by 11 inch solid papers.

For these six papers you will get six A2 cards and three 8 ½ x 11 inch papers.

Below is my cutting sketch for turning each 12 x 12 inch paper into an 8 ½ x 11 inch paper and piece parts for the Retro Sketch cards.

Then each 8 ½ by 11 inch solid paper is cut in half and scored for the A2 card bases.

All the paper parts listed below:
·
Three 8 ½ x 11 inch papers
·
Six 5 ½ x 8 ½ inch solid card bases, scored at 4 ¼ inch
o
Three 3 ½ x 4 ¼ inch main mats that can be punched or diecut
o
Three 3 ½ x 1 ½ inch papers to use for a punched or diecut accent
o
Three 4 ¼ x 1 inch strips to use for a greeting
o
Three 3 ½ x 4 ¾ inch large mats
o
Three 3 ½ x 1 ½ inch papers to use for the long rectangle
o
Three 4 ¼ x 1 inch strips to use for a greeting or accent