Welcome to the Gnome for the Holiday Blog Hop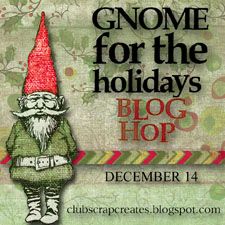 When I think about holidays I think of baking.

I get out those familiar family favorite recipes and make them fresh with my own children.

As I opened the plan text file to print my recipes, I thought how about I give these recipes a holiday make over.

And then comes out Club Scrap's Gnome for the Holiday…..
I used my digital software and CS Gnome digital kit to make an 8 ½ by 11 page to hold two 4 by 6 recipe cards.
Then I printed them on cardstock.

Now I can send the new recipe cards to everyone in my family, too.
Happy Crafting,
Debby