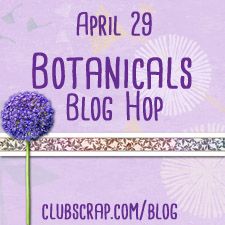 Welcome to the Botanicals Blog Hop! To return to the start of the hop here.

This month I was inspired by the

Club Scrap Artist Team Challenge

to make a mixed media panel.
Botanicals Mixed Media Panel
It took a while to decide what to make after looking at all the great ideas from the Artist Team and Pinterest. In the end I kept in small scale starting with a
6 inch x 6 inch mixed media album page.
Stamped Panel
I started by stamping flowers from the Botanicals UMs using Club Scrap Hybrid ink in amethyst,
moss, leaf, carnation, and ruby. Then I heat set the images to keep them from running in later steps.
Masking Panel to Spray Sky
Next, I added sprays to make the sky and ground. A torn scrap paper was used for a mask before spraying the sky in Distress Spray Stain in Broken China and
Lindy's Stamp Gang Spray in Azure Sea Asters.
Added Sky and Ground with Sprays
Then using the other half of the mask I sprayed the ground in Lindy's Stamp Gang Sprays Ponderosa Pines Olive and My Mojito Green. Afterwards I added leaves from the Botanicals UMs.
Added Swirl in Sky
To add some interest to the sky I added swirls with Club Scrap stencil (Serenity Collection) using with Distress Spray Stain in Brushed Pewter. The swirls seemed to fade so I added highlights in white with a Signo Gel Pen, low lights in Faded Jeans Distress Marker, and mini pearls. To frame the whole panel I added distress ink in Vintage Photo and Walnut Stain to the outer edge.
Vellum coated with clear gesso and sprays
I wanted to capture the translucent look of the delicate pink poppys that grow wild where I live. So I wanted to use vellum, but vellum is notorious for inks and sprays not sticking. To solve that problem I painted a sheet of vellum with clear gesso. Once dry I used Lindy's Stamp Gang Sprays in Cape Cod Coral, Poinsettia Red Gold, My Mojito Green, and Lucky Shamrock Green, One color I did not have was a coral. So I used my new Marion Smith Color Lab to make the color spray I needed.
Outlining Technique for Diecuts
I cut several different types of flowers and leaves out of the colored vellum using thin dies. As I mounted the leaves I noticed they seemed to fade into the background like on the far left above. I outline the leaves with the fine tipped Distress Marker in Forest Moss as shown in the center. After outlining I used a water brush to blend the marker lines as shown in the far right. I did the same with the flowers using a
Distress Marker in
Fired Brick.
Panel with flowers finished
I added the colored vellum flowers with adhesive. Some are attached with the Botanical colored brads. Others are covered with glossy accents to help them stand out. Botanical's Brown Ribbon was used with the three holes to create at hanging strap. The sentiment was stamped in

Club Scrap Hybrid ink in amethyst and antiqued in

distress ink in Vintage Photo and black soot.
Finished Panel
Thank you for reading. Your next stop is with the very creative Kay at Kay's Keepsakes and the beginning of the hop is at Club Scrap Blog here.
Happy Crafting,
Debby H