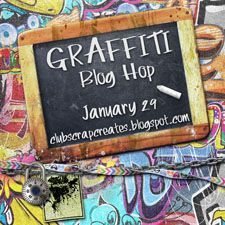 Hello and Welcome to the Club Scrap
Graffiti Collection Blog Hop!
I was a bit late starting my project this month, because of all the wonderful articles in the Club Scrap Creates Graffiti Scrap Rap e-zine has caused a plethora of ideas to swirling around in my head. Once I settled down the Graffiti collection has helped me focus on two things I have wanted to do for a while (1) get back into card making and (2) play around with my Gelli Plate.
To make my Assembly Line Card Making (ALCM) IdeaDecks more accessible I make this card file using a scaled down version of Laura Denison's Accordion Recipe Box Pattern and video. My box is 6 x 4 x 2.5 inches. A bonus is that I can use the cute tins the Idea Decks came in for an altered project; it may even turn up next month. ;-) What I really like about this pattern is the way the box opens to create an easel for the idea card. I colored in some cut aparts to decorate the box and finished the top with Glossy Accents.
Next, I pulled out my Gelli Plate. I had to have, but until this weekend I had not used it. Club Scrap Creates was there to inspired me with this post from Tricia. For my first experiments I keep it simple only using the Graffiti squiggle heart stamp and some bright acrylic paints. Here are some of my very first samples. It was great fun to just mix colors, so I made a bunch more.
Finally it was time to ALCM some cards. I selected the Seven of Hearts from Idea Deck Two to make four Matchbook Cards. I always have trouble following directions, so I used the sketch a starting point. The Gelli Plate art panels became the main panel of the card and I used the diagram to cut my other papers efficiently. I stamped greetings in neon and India ink and again colored them. I added a yellow/orange paper from the Club Scrap pattern basics to the mix as distressed mats and finished with Graffiti Ribbon.
I hope you have enjoyed all the inspiration from the blog hop this month. Your next stop is with Janet and Dishing with Janet or you can return to Club Scrap Creates for the full list.