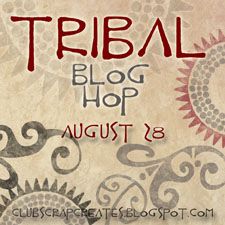 The cover is made from two sheets of chipboard with a curved top traced using a plate.

The wave opening was cut using a metal tearing tool as a guide.

Then I echoed the shape using the Tribal red shimmer paper and grey paper strips.
The cover background is the Tribal Eggshell print with clear embossed Tribal shapes.

This was colored over with gelatos in blood orange, mango, and red cherry.

Then a matching homemade gelato mist and black shimmer mist were splattered over the panel.

The clear embossed areas resisted the gelatos.
The "Growth, Harmony and Strength" focal image is a Tribal stamp embossed with the Tribal Hematite power.

I also embossed the edge with hematite power.

After embossing blood orange and mango gelato was rubbed over the backing paper to create a mottled background.
The inside is matted in black paper with red and hematite embossing.

Did I say I love the hematite embossing power?

Again the curved opening echoed with the Tribal red paper and grey paper strips.
I added mats, tags and cut-outs.

The pictures, from a recent family trip, were printed at home with frames made using the Tribal Digital kit.

Have matching paper, stamps, and digital is great!
Thank you for joining in the Blog Hop and for reading my post.

Here is a link to your next stop with Janet.

Also, here is a link back to the start at Club Scrap Creates.